An experience of Posthuman Pedagogy I recently had was Learning to Swim Using YouTube.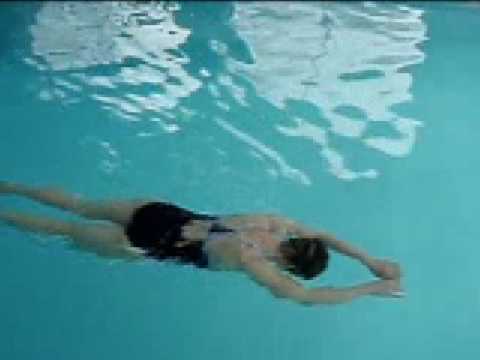 I sought this out as I was having trouble with breastroke. I felt initially that swimming lessons weren't really for me, I just want to build upon my own existing knowledge at my own pace. I set my own goals, I have no pact with my teacher, he doesn't even know he is teaching me. I watch a video online, then I go swimming and try to put into practice what i've learned.
This is problematic, in some ways, I don't have an expert to give me feedback on what i'm doing. This 'intellectual uncertainty' could be a stumbling block if I don't figure out how to get around it. I could contact him via his youtube page or website and ask for advice, and you can see in both locations that he does respond. I could try looking at other ways of getting the information I need (my main problem is that I can't see what I am doing; I could ask someone to describe my movements..) However, as I have set my own goals (swimming a certain distance in a certain timeframe) I can measure success in my own terms. And, ultimately, it has worked; Next stop: Front Crawl.
I think it's interesting to note why I chose this particular instructor, out of the hundreds that come up when you search Youtube for 'swimming breastroke'. I watched a few and found that some were too fast, some used a bit too much jargon (suggesting that i'd need more prior knowledge) and some just didn't look right. The one I chose had the following characteristics:
Well paced
Good use of repetition (of visual and key points)
Authenticity: This was shown to us by Steven Shaw – a quick google search shows him to be an expert..; Also 'Swimming without Stress' is run by a swimming instructor; you can read all about him here.
Personality; a regional accent I identify with (not sure how much this was a factor in my choice, but it's worth mentioning that i'm from the west midlands and this is where the tutor's accent originates…)
On the surface this fits with lifelong learning as "a world of gathering things together and experimenting". According to Edwards (2010) Posthumanism, technology and 'how the information is gathered' however, has made this more complex.
I still see Lifelong learning as still significant in a Posthuman age. The essence of Lifelong learning, for me, is the focus on the individual – something I see technology enhanced learning supporting hugely. I'm not just expecting to 'be taught' in my Posthuman Pedagogy example, but to structure my learning myself, according to my own needs; technological enhancement/ advancement serves to gives me many more options. I can see how Edwards (2010) notion of 'Responsible Experimenting' and the trouble of the fast changing pace of the world is important here, too; Lifelong learning seems perhaps too stable a term for such a chaotic world…
82 Responses to "Posthuman Pedagogy"
on 28 Nov 2010 at 3:41 pm

1

Sue Grundy

Hi Marie
I liked your post – the video was quite soothing somehow to watch…almost sophorific… On a personal level it was interesting as I've been watching my 4 yr old son learning breaststroke today – he's a natural apparently. Plus my own breastroke is very poor…I only managed to co-ordinate my legs recently! So the idea of it being a stroke of gliding was very beneficial to me.
The video reminding me of the Understanding Learning assignment where one had to learn a new motor skill – I chose juggling – which was very difficult to learn…it was a brilliant assignment for realising how hard it is to learn some things and once learned how easy it is to teach – to see what people are doing wrong.
I fully agree with lifelong learning being still significant – the thought that we reach a point where we don't have something to learn seems unhuman and indeed un-post-human.
My own children are already learning so much more at a faster pace than I ever did – my 6 year old is learning to swim front crawl and even butterfly – which fills me with awe as it is a stroke that I cannot imagine ever mastering…but maybe I should put it on my own lifelong learning agenda and take inspiration from you and look for a video on youtube (but worried about getting the computer wet




on 29 Nov 2010 at 5:31 pm

2

Noreen Dunnett

Really interesting idea for posthuman pedagogy. I find the whole idea of learning from Youtube fascinating. My daughter takes face-to-face piano lessons and can read music but she sometimes prefers to learn tunes from Youtube and plays 'by ear'. What she learns 'by ear', stays in her memory and she can play these tunes any time, anywhere, whereas the stuff she learns from reading music is not so straightforward – no natural flow from ear to fingers!

I suppose the difference with your 'swimming lessons' was that you didn't have the video in front of you as you tried out the tips, the way that she did but maybe the mental process and internalisation was the same?

It's funny that you as a human learning still need a 'human' with particular qualities to 'teach' you, even if it was a mediated message. You looked for the human who had a regional accent, a certain pace etc. Perhaps we'll never truly be posthuman!




on 29 Nov 2010 at 9:58 pm

3

Charmaine McKenzie

Hi Marie:

I'm with you and Sue on the matter of the continued relevance of lifelong learning. And I agree with Edwards (2010) on the need for learning to challenge us, at any level in fact, throughout life.

I can't swim, shameful to say, as I had more than enough opportunities to learn but have always been petrified, thinking that I will just sink no matter what the laws of physics or whatever it is say. It just occurred to me though, I wonder if a swimming lesson in Second Life with my avatar doing it would work? When I have some time I'll see if there is anything like that in SL.




on 30 Nov 2010 at 8:54 pm

4

Jeremy Knox

Hi Marie,

I was very intrigued by this posthuman pedagogy post. The You Tube video seems to be an excellent example of a teaching cyborg organism, in that it is comprised of technology (non-human) and teacher (human). It seems to me that these human and non-human elements cannot be separated. The human is entirely mediated by technology, his voice (and regional accent) is digitised, the shaking of his camera hand is encoded in the video, his choice of shot has been influenced by the hardware of the camera and the interface of the video editing software. Conversely, the non-human video is a direct result of human thought processes and editing decisions – we cannot say that the video (technology) exists independently of the human. Moreover, I would include the bodies of the swimmers who are demonstrating the breath stroke in this cyborg teacher, as they have provided a physical demonstration of the technique, which supplies a visual stimulus for the spoken word. The learning that you undertake from this video seems therefore to be dependent on a hybrid of human and non-human.

I was also excited by your search activities, and thought this demonstrated further posthuman elements. Firstly the results of the You Tube search for 'swimming breast stroke' must be partly based on the popularity of You Tube videos, and so it seems that others have influenced your decision in a small way. Is this enough for the 'distributed cognition' of Hayles I wonder? Furthermore the Google searches that you undertook for reassurance (a common practice I think) reveal the same community involvement, this time in how you came to trust the authenticity of the teacher (very important for learning I think). The visual aesthetic of web pages must also influence our propensity to trust. I wonder whether the comments on the video influenced your learning? Thinking about it, I can't watch a video on You Tube without reading at least some of the comments, they seem to be an integral part of the experience, and influence how I perceive the authenticity of the clip.

The comments about personalised learning are interesting. I think this kind of technology almost creates a paradox. I view what you have described here as a demonstration of how utterly entangled your learning has been in 'objects' and other humans, yet I would also definitely agree that you have tailored the experience, from a range of variables, to what you are comfortable with. This is surely the questioning of subjectivity and agency that makes the posthuman such a controversial concept. Thought provoking stuff, thanks Marie.




on 01 Dec 2010 at 2:12 pm

5

Marie Leadbetter

@Jeremy – thanks, I think you highlighted something really important there that struck a chord with me in Haraway, re: miniaturisation/ invisibility of technology, or it's effects. Like you say, the medium – possibly even down to the make of camera, or the standard of equipment – has altered the delivery. And my way of finding it has been shaped by my own previous experience of searching. If it wasn't so common, it could be considered serendipitous. It's startling how McLuhan's predictions about technology, people and society are still so relevant – in the 60s he foresaw some of the exact ways in which technology would shape and change us.

Re: Youtube comments – i did once post this http://xkcd.com/202/ on my blog as I find Youtube comments hilarious. I've never seen arguments like it! As I don't spend enough time on Youtube, I don't know who I can trust there…I thought that searching on Google would give a more balanced view. Although, I do forget that Google is primarily an advertising company and with the rise of 'Sponsored Links' should we trust it…?

I do have trusted sources on Twitter, too. If someone I follow posts a link, I tend to look at it and trust that it is true, that they've done the fact checking and would not have tweeted/ retweeted it if they didn't know for sure. Now, quite recently Graham Linehan and Jonathan Ross, who both have thousands of followers, have tweeted, or retweeted things without checking. I guess they never asked to be experts, but people do come to expect a certain level of integrity from your web presence…

To quote McLuhan:

Character no longer is shaped by only two earnest, fumbling experts. Now all the world's a sage.




on 01 Dec 2010 at 2:22 pm

6

Marie Leadbetter

@noreen

That's really interesting about learning the Piano! I have been doing the same on Youtube, but with much more difficulty!! I've never had a lesson though so maybe it's as I have no real foundations…

I think learning to swim was much less complicated, it is just one manoeuvre with several small components. At the time, I wasn't sure if I was failing or not; only really at the end and on reflection. I'd come back to the video, watch and think…oh, I don't think I did that. Then next time, would concentrate on that for a bit…

@sue

You're right about the voice, there's something really soothing there. I read some blogs about people learning something for the Understanding Learning module, looked great fun. I bet it wasn't, though!! The annoying thing is, I think, knowing how to do stuff is great. Learning it is not so much

@Charmaine

Funny you should say about SL – something weird I noticed is that the way people move underwater is kinda similar to flying in Second Life…




on 02 Dec 2010 at 6:02 pm

7

Jen Ross

Marie, I've been thinking about your post for the past few days without being sure quite why it hooked me like it did. I agree with what's been said above about the various layers of posthumanism it evokes. To add to them, I think the video instructions themselves are an invitation towards a posthuman subjectivity – the precise focus on the mechanics, the tiny pool with the swimmers launching and turning and stopping over and over, the analysis of the stroke as being about *not* working, about preventing instinct from taking over, about being at ease in a hostile environment. It's quite captivating! It's about the body as prosthesis (as per Ali's point earlier this week), the discipline of unlearning and relearning a physical pattern. Anyway, I loved it, so thanks for this!




hi, this is my first visit to this blog, i like your writing style. i'm very interested in your posts, please keep up the good work!http://www.divulgaemail.com




on 05 Jun 2012 at 4:27 am

9

lista de emails

Estou feliz por acaso nesta página. Obrigado por compartilhar conosco.
___________________________________________
http://www.maladiretasegmentada.com.br




on 07 Jun 2012 at 1:13 am

10

lista de email

Obrigado, você ganhou um novo fã, estes textos que você postar aqui são muito úteis para mim.
___________________________________________
http://www.casaemail.com.br




on 12 Jun 2012 at 8:30 pm

11

lista de emails

Tenho de agradecer-lhe beneficiar-me com um texto tão bom.
___________________________________________
http://www.divulgaemail.com




on 13 Jun 2012 at 12:20 pm

12

lista de emails

Isso é muito bom, vou usar suas técnicas de blogging para escrever em um blog a mim mesmo. obrigado pela ajuda.
___________________________________________
http://www.casaemail.com.br




on 14 Jun 2012 at 2:06 pm

13

lista de emails

Eu concordo totalmente com o que foi escrito aqui. Obrigado por fornecer e compartilhar o post.
___________________________________________
http://www.maladiretasegmentada.com.br




on 19 Jun 2012 at 11:02 am

14

lista de emails

Você é um grande profissional para escrevê-lo, parabéns.
___________________________________________
http://www.divulgaemail.com




on 23 Jun 2012 at 3:07 pm

15

lista de emails

Eu acho que a informação sobre o assunto ainda é muito escassa na internet.
___________________________________________
http://www.divulgaemail.com




on 24 Jun 2012 at 9:54 am

16

lista de emails

Gostaria de ficar informado de seus posts novos. Muito obrigado.
___________________________________________
http://www.maladiretasegmentada.com.br




on 25 Jun 2012 at 10:01 am

17

lista de emails

Este site é recomendado para todas as idades, pois contém material bom e informativo.
___________________________________________
http://www.maladiretasegmentada.com.br




on 26 Jun 2012 at 11:01 pm

18

lista de emails

É bom ouvir falar de algo assim.
___________________________________________
http://www.maladiretasegmentada.com.br




on 28 Jun 2012 at 6:41 pm

19

lista de emails

É um artigo maravilhoso, eu gosto, muito obrigado!
___________________________________________
http://www.casaemail.com.br




on 02 Jul 2012 at 7:10 pm

20

lista de emails

Isto tem que ser o melhor, apenas manter a atualização aqui, estará de volta para mais!
___________________________________________
http://www.maladiretasegmentada.com.br




on 07 Aug 2012 at 9:00 pm

21

Alejandro Burchfiel

Topic park system certainly are a pillar of the family getaway selections, especially in the summer. Anything about theme parks helps make kids consider they may be characters inside their very own favorite cartoons or perhaps about the sony ericsson.




Superb posting, I share the same views. I wonder why this particular world truly does not picture for a moment like me and also the blog site creator




probably the most easiest is from alebrt king. since he's known for using the alebrt king box . it's shape from one of the pentatonic scale patterns. it's not that hard he mostly plays around 2-3 notes for his soloing. not that tough, check out tutorials on youtube. but be warned alebrt king uses a lot of bends. definitely B.B King and Freddie King as well but alebrt king is probably the easiest from what i know.




on 04 Feb 2013 at 11:46 am

24

Reynaldo Cagle

Could Allah SWT accept your fantastic deeds. Thank you for this beneficial web web page. Excellent idea.




on 07 Feb 2013 at 6:11 am

25

Terrell Hinchman

Hi Jon, any chance which you are related into the Don McKnight Volvo 122 SCCA/Trans-Am driver?




on 07 Feb 2013 at 12:57 pm

26

Adam Santee

did mrgurth died??




on 10 Feb 2013 at 1:30 pm

27

electric bike

These lightweight electric vehicles are able to go where cars can't. A normal EB would consume fuel at an average rate of 100-150 watts of electrical energy compared to gasoline consumption.




on 10 Feb 2013 at 7:24 pm

28

Cleora Goodheart

Woah awesome piece. The exact thing I needed for this school project I'm working on. Thankful!




on 11 Feb 2013 at 3:14 am

29

furry cat girl

Abdiel confirms it hard to swallow hairy paraphernalia




on 12 Feb 2013 at 3:44 am

30

InternetReputation.com

Good site you have here.. It's hard to find high quality writing like yours nowadays. I truly appreciate people like you! Take care!!




on 12 Feb 2013 at 4:27 am

31

sameer jejurikar

Next time I read a blog, I hope that it doesn't disappoint me as much as this one. After all, Yes, it was my choice to read through, however I really believed you'd have something useful to say. All I hear is a bunch of moaning about something that you could possibly fix if you weren't too busy searching for attention.




on 12 Feb 2013 at 5:56 am

32

Marylynn Korth

Very good post , I am going to spend far more time researching this topic




on 12 Feb 2013 at 9:44 am

33

Ray Christianson

Wow! Thank you! I continuously wanted to write on my blog something like that. Can I implement a part of your post to my website?




on 13 Feb 2013 at 3:02 pm

34

Leigha Weltmer

Wow, on and that is hosting your web site? I have enough free the web, but a page load if you ask me very quickly! After in which, the page is generally wonderful! Excellent making style, very appealed to me! I intend that I am checking spine here sometimes!




on 14 Feb 2013 at 10:33 am

35

osrodki terapii uzaleznien wroclaw

Always pleased to recite amazing articles.. Desire be present in exchange in support of additional for sure! Thank you for sharing




I am impressed with this internet site , very I am a big fan .




on 15 Feb 2013 at 2:55 am

37

Tiffany Sandusky

I'm incessantly thought about this, thanks for putting up.




on 15 Feb 2013 at 1:24 pm

38

http://panel.pixnet.cc/confirmpopup/blogcomment?token=ccRUzAT4IskTQHzQVpg

Rattling nice style and wonderful content , very little else we want : D.




on 15 Feb 2013 at 6:41 pm

39

Branden Runnells

hey all, I was simply checkin' out this blog and I really admire the basis of the article, and don't have anything to do, so if anyone wish to to have an engrossing convo about it, please contact me on AIM, my title is heather smith




on 16 Feb 2013 at 2:58 am

40

Sherill Edds

I agree completely with what you said. Excellent Stuff. Keep it going..




on 16 Feb 2013 at 7:54 pm

41

Get More Info

Appreciate the recommendation. Will try it out.




on 16 Feb 2013 at 10:57 pm

42

Prace licencjackie tanio

Perdoname que tengo que escribir esto, pero la verdad es que lo necesito




It's an amazing post for all the web users; they will take advantage from it I am sure.




on 18 Feb 2013 at 7:53 am

44

get the facts

Loving the info on this site, you have done outstanding job on the posts.




on 18 Feb 2013 at 2:55 pm

45

roofer in Bromsgrove

Got here via Google express. Awesome stuff, educational and amusing! Appreciated




on 19 Feb 2013 at 2:08 am

46

Learn Additional

What a funny blog! I really enjoyed watching this funny video with my relatives as well as with my colleagues.




on 19 Feb 2013 at 5:05 am

47

Neil Marsili

Thank you for your site post. Brown and I are actually saving for our new book on this matter and your article has made us to save our own money. Your opinions really responded to all our problems. In fact, a lot more than what we had known just before we ran into your fantastic blog. My partner and i no longer have doubts plus a troubled mind because you have totally attended to our own needs right here. Thanks




on 19 Feb 2013 at 8:38 am

48

Lory Cardelli

I am lucky that I detected this website, exactly the right info that I was searching for!




on 19 Feb 2013 at 5:17 pm

49

sex cam 2 cam

I fuck ha till I catch leg cramps, I'm on top like a cam




on 19 Feb 2013 at 9:39 pm

50

Del Whitesides

Der Neue Anzeigenmarkt für professionelle Messe und Event mit Job Angebote Messe und Event Logistik




on 20 Feb 2013 at 9:18 am

51

events company

I love this post very much. I'll certainly be back. Hope that I will be able to study much more helpful posts then. Will be sharing your knowledge with all of my friends!




on 20 Feb 2013 at 3:45 pm

52

Windsor Palms Resort Florida

Guten tag! Hohoho! I'm not Deutsch, but had ya going! Sweet article neway, I love what you wrote.




In my country we don't get any of this type of writing. Have to look around the internet for such relevant info. I 'm thankful for your effort. Keep it up!




It's my first pay a quick visit to this web page, and I am genuinely astonished to see such a pleasant quality YouTube video posted at this place.




on 22 Feb 2013 at 12:55 am

55

www.irs-help-tax-relief.com/problems-with-tax-lien-federal/

Great post but I was wondering if you could write a litte more on this topic? I'd be very grateful if you could elaborate a little bit further. Kudos!




on 22 Feb 2013 at 6:34 am

56

Leisha Muenchow

Woh I like your posts, bookmarked!




on 24 Feb 2013 at 12:30 am

57

Lenny Olheiser

Yay google is my king helped me to find this fantastic website ! .




on 24 Feb 2013 at 5:19 am

58

Emmett Hershnowitz

A thoughtful insight and ideas I will use on my site. Youve naturally spent some time on this. Congratulations!




on 24 Feb 2013 at 2:14 pm

59

savannah ga real estate

It's very trouble-free to find out any matter on net as compared to textbooks, as I found this article at this web page.




on 24 Feb 2013 at 4:53 pm

60

Suggested Reading

Can any one tell me that is there any on the web course for SEO, as I wish for to learn more about Search engine marketing.




on 25 Feb 2013 at 2:35 pm

61

similar webpage

Can any one let know me that is there any online course for SEO, as I would like to learn more on the topic of Search engine optimization.




on 25 Feb 2013 at 5:42 pm

62

Christian Torres

Thanks for your posting




on 27 Feb 2013 at 12:25 am

63

http://kopalniawww.pl

Keep all the articles coming. I love reading through your things. Cheers.




on 27 Feb 2013 at 10:45 pm

64

http://agencjawg.pl

I just put the link of your blog on my Facebook Wall. very nice blog indeed.~~`:`




Will you mind basically if I quote one or two of your current topics providing that I provide you with credit along with sources back to your websites? My online site is within the exact same area of interest as yours and my viewers will utilise several of the critical information that you present right here. Be sure to let me know if it is okay with you. Take care!




on 28 Feb 2013 at 10:27 am

66

Jack Rishor

I always was interested in this subject and inventory still feel, thank you for setting up. Come visit my site I do think you will love it!




Hey All of us loves the beautiful site and please continue




on 28 Feb 2013 at 4:11 pm

68

konkurs pieknosci miss polka

Good mode of potent, and careful editorial to get information regarding my presentation focus, which i am going to deliver in academy.




on 28 Feb 2013 at 7:13 pm

69

More hints

This information is worth everyone's attention. How can I find out more?




on 28 Feb 2013 at 10:59 pm

70

inwestycje w zloto

Nice submit, have a happy fresh year!




on 28 Feb 2013 at 11:30 pm

71

Trent Kotowski

Do you have a spam problem on this site; I also am a blogger, and I was wanting to know your situation; many of us have created some nice procedures and we are looking to exchange strategies with others, be sure to shoot me an email if interested.




on 01 Mar 2013 at 12:57 am

72

Dominica Moldovan

I go to see daily a few web sites and sites to read articles or reviews, except this website provides quality based content.




enclosed car trailers for sale in texas




on 01 Mar 2013 at 10:17 am

74

car transporting

car transport companies in southern california




on 02 Mar 2013 at 8:31 am

75

ogrodzenia Bialystok

Hi there! I just wish to give a huge thumbs up for the great info you will have right here on this post. I might be coming back to your blog for more soon.




As a teacher, I grade a lot of writing assignments. That's a hard habit to break so I give you a strong A+ for this article. It's interesting and well-written.




Thank you a great deal for your article. Truly thank you! Great.




on 03 Mar 2013 at 3:33 pm

78

automated trading systems

Actually programming is nothing except it's a logic, if you get control on it after that you are the master else not anything.




on 03 Mar 2013 at 11:51 pm

79

inwestycje w zloto

This site rocks my world on countless levels




on 04 Mar 2013 at 9:03 am

80

website creations

i found your completesite to contain all the information i was seeking.it has taken me ages to find such relevant information on the various subjects i was looking for?thanks again..




on 04 Mar 2013 at 12:15 pm

81

complete websites

it seems like ages that i heve been searching for a site like this one? i am glad i found it,some great information here, i am new and just starting out, anyway thanks for some great tips..




on 06 Mar 2013 at 2:57 pm

82

buy panerai watches

2C congruent tattoo capsules as for Epson stylus pen colorings 780 785EPX 825 870 875DC 890