Dec
10
As the week – and final block of the final MSc E-learning module closes, I reflect on the past week: the WikiLeaks debacle, compounded by 'denial of service' (DOS) attacks against Visa, Paypal, Amazon from hackers sympathetic to the freedom of information; street activism, as students surround the Houses of Parliament and the Prince and Princess of Wales; Afghanistan rages on as the U.K. wriggles within an Artic grip; I watch – amazed and alarmed – as a Youtube video demonstrates self-implantation of a subcutaneous RFID tag.
This eclecticism has been reported via a variety of mediums, channeled across a variety of network infrastructures and delivered through both visual and audio modes of reception.  24 hours a day, 7 days a week.
My (then frozen) grip held a Google Nexus One upon which an operating system leapt around 256Mb of RAM – ushered by a not-too-sluggish 1Ghz processor – which aggregated the invisible signals from the ether and corralled them into RSS headlines, tweets and other digital artifacts from around the globe.  A Sansa Clip MP3 player was playing one of my latest podcast subscriptions.
Twenty years ago – prior to resuming and indeed as a vehicle for affording returning to higher education – I was, whilst simultaneously studying the very languages that brought consciousness to the ROM-initiated soul (PASCAL and C), assembling IBM PS/2 machines, most of which were 386-486 SX/DX 16-bit computers.  The current capability in my recently frost-bitten hand has far exceeded not only the physical and functional capabilities of even a cluster of such machines, but also the knowledge economy and possibilities made possible with a ubiquitous internet.
Those PS/2s lie inert, muffled under the weight of landfill and exponential progress; IBM and Windows have fallen from the lexicon and have been replaced with "Facebook" and "Android".
This twelve block course of study has been about the possibilities evinced by current digital communities and the applicability of such aggregations to learning.  What has been proven is that the course of study has been successfully utilizing the very components – hardware, software AND wetware – that it proposed and critically debated, from a variety of digital sources and geographical locations.
Enough said.
Dec
5
(This past week has been consumed by my forthcoming 40th birthday!)
As I plan to produce my final summary for Week 12 and the Lifestream Summary next week, the overall prevailing aspects drawn from this course of study – and upon which my final essay will focus – has been the importance of audio in our visually rich culture, corollary with the synergy between digital games and traditional texts.
I spent some time using a Mission Editor application which comes with the Silent Hunter III game, and using data from www.u-boat.net I was able to 'plug' four merchant ship locations and a submarine position into a configuration script, thereby creating a playable mission scenario.
No random placings, but actual positions at the point of contact by U-96 in April 1941 in the Atlantic Ocean during her fourth active service patrol off the coast of Iceland.  I aim to re-create the career timeline of 8 the 11 missions undertaken in active service by this submarine, and use traditional non-fiction texts and first-hand accounts too.
On Friday, last period (!), I have an S2 class – the same stage upon which I hope to apply my World War II digital game-based lesson series – I decided to allow one girl to play the mission…  She found herself at day 15 of the 41-day mission, which was the day before the first Allied casualty. She experienced the confusion and frustration that I would envisage a commander seeking his quarry; she failed to make any contact, using the cursor keys to inspect endless blue.  Before her lay a map in the same Grid System format as used by the German Navy.
We disengaged and loaded up the 'Gibraltar' Mission, which comes with the game and is a reconstruction of Patrol #7 (immortalized in Das Boot).
I was completely taken aback by her response and the gathering crowd of female pupils – and some males – showing alacrity at their inability to dive to avoid the oncoming warship, which had altered its course to provide less surface area to the (by now) benign torpedoes.  The artillery fire sparkled in the overcast sky; down below the lighting stuttered, and the control room rocked; German voices continued to report damage…
It works!
Nov
27
Twit.tv's Windows Weekly. Episode 184 brought me to consider this allusion: teachers are like Microsoft programmers who, despite hardware limitations of the era prior Windows, would develop, encouraged by the idea that the hardware would be capable in two years and more.
Which brings me to the Edwards text.
Post-humanism relating to "adult education and lifelong learning" has been overlooked because as the example from Freud suggesting that we are preparing in Secondary, Further and Higher Education those individuals who are the exact species of human currently being debated; if we have problems now, and are currently debating posthumanism, what of the future "entanglement of the fleshy and technical?"  This entanglement is often re-constituted into epistemological-ontological separation of the subject/object polarization, the status quo of anthropologists and researchers which is being challenged by current debate:
By contrast, in a post-human enactment of the world, practices gather different things as matters of concern through their own forms of experimentation…Experimentation and gathering rely on an entangling of the human subject with the object world raising questions about the notions of learning/knowing by subjects as a way of framing such practices(p. 10).
Practices of knowing are specific material engagements that participate in (re)configuring the world; post-human lifelong learning can be positioned as an entanglement of the human and non-human.  This is achieved throughexperimentation, which will involve successes and failures; this is the "gathering of the human and non-human" (p. 13).
This blurs the traditional view of the subject – human – and the knowledge learning, thus a dis-aggregation and dissemination of the attributes of the 'process' that are the post-human, across time, space and a variety of flesh and silicon mediums.
"Constant experimentation rather than aimed at fulfilling ultimate purposes as ends" (p. 14).  So, rather than a post-human condition of lifelong learning, we could enact a post-human condition of experimentation that embraces risk, responsibility and emancipatory ignorance (p. 15).  This emancipatory image is extended, this time by Bayne (2010) and afforded to the learning 'space'.
Within the first few paragraphs I detected allusions to Zone of Proxmial Development (ZPD) – "the difference between what a learner can do without help and what he or she can do with help" (Wikipedia.org) – especially in the suggestion that "defamiliarisation of the strange act of teaching can be generative" (Bayne, 2010, p.6).  I was heartened by the suggestion of "nurturing in students of the ability to live with intellectual uncer-tainty" (Barnett 2007, cited in Bayne, 2010, p.7), which accords with the points I have found were illustrated in the Edwards text: we have to remember that we are preparing pupils for an unknown future, desisting in teaching them contexts and processes from our own schooling.
And as for my own experience as a virtual learner:
"university as institution changes dramatically.  The material proximity or even existence of the campus becomes of far less significance than the symbolic status of the institution and its virtual presence across the various nodes of the network. Institutional 'capital', once signified by bricks, mortar and physical proximity with an academic community, becomes diffused by the network as 'place' and 'learning community' lose their material anchor and become virtual and imagined (Bayne, 2010, p. 8).
My entrances into the 'establishment' are via Twitter, Facebook, MyEd – not echoing footsteps, heavy wooden doors, spires…Yet I feel every much a student as I did during my undergraduate days, perhaps ever more so in this "fluid space" (Bayne, 2010, p.9) as I currently do not experience the 'emptying' from some physical space at the end of a day, week or semester, and I have a variety of mediums through which I can connect, synchronously and asynchronously with what is termed as "many nows".
Anecdotally, regarding this metaphorical 'haunting', I have been aware of the growing use of mobile phones as more than fashion statements: who has the latest, most expensive phone has given way to the value of social networking (smart-phones are fairly ubiquitous and reasonably priced).  Pupils are aware of these networks "positioning [them] differently on the continuum of presence/absence" within the classroom and it is not uncommon for pupils to be spotted negotiating this tension during classtime, whether it is gaining a reward of some "time on e-mail", or through surreptitious use of a mobile device to text of access Facebook (Twitter is rarely mentioned).
And I think that Bayne leaves us with what I consider is an open challenge to educators of all ages and stages:
"An uncanny digital pedagogy would therefore undertake creative engagement with these new and often difficult textual environments, in a way which plays on the – often disturbing –'loosening' of the tight relation between text and author online and in a way which, again, poses challenges to stable assessment orthodoxies"
We must change; they have.
References
Bayne, S. (2010). Academetron, automaton, phantom: uncanny digital pedagogies. London Review of Education,8/1, 5-13.
Edwards, R. (2010). The end of lifelong learning: A post-human condition? Studies in the Education of Adults, 42/1, 5-17.
Nov
22
To me, this album cover, the music and lyrics contained therein exemplify the posthuman. I was introduced to it when I was 7 or 8 and continues to stun me with regard to its imagery and futuristic sound, which includes the new (Polymoog synthesizer) blended with the old (the Gibson guitar, drums).
Replicas - derived from 'replicant' – is a concept album based on short science fiction stories written by Gary Numan, who was influenced by the writings of Philip K. Dick, in particular Do Androids Dream of Electric Sheep?.  The lyrics deal with humanoid logic machines, rape machines, Burroughs-esque junkie imagery
The eye imagery predates Blade Runner by a number of years.
Nov
21
I have been reading the Muri and Gies papers particularly concerned with disembodiment and the separation of body and soul/conscience, to which Giers posits: "what kind of logic has given rise to this equation of technology with disembodied consciousness and superfluous bodies?" (p. 75).
My purpose is to enable school children to augment their existing identity – and feelings – with that of a temporary one, through PC simulation gaming environments that are audibly and visually immersive: characters have dialogue, full names, specific roles, real-time attributes, environment bodily cues and creating stronger convergence with audio-visual media" (Gies, 2008, p. 311).
For example, as mentioned in previous blog postings I am interested in this when applied to the issue of assuming the identity and persona of a Second World War submarine serviceman re-constructed from the assimilation of exemplary first- and second-hand accounts gleaned from traditional and electronic texts.
This is a familiar method, and through the contextualisation of this global conflict and by drawing on pre-existing sympathetic and empathetic affect, the basis upon which one can build an imaginative persona materialises.
However, from the collaborative immersion brought about by playing a PC simulation game that allows school pupils elements of re-enactment, I do not envisage that the entire identity of the 1940s character is 'built' entirely from scratch, but that the 'mask and costume' merely augments the established human characteristics with the re-materialised "nervous system [which] is splayed across the sensorium of the technoscape" (Muri, p. 82) as the digitized identities and environments embedded in the narrative of the games. In Badminton's text it is the "what of humanism itself persists, insists, and  ultimately  desists" (2003, p.12).
This idea of fluid identity – nefariously applied – is supported Gies (2008, p. 314), which would pre-suppose the idea that female pupils would be able to and convincingly undertake and participate – virtually – in the patriarchal confine that is the submarine vessel (an environment off-limits to females).  This re-gendered reading of a 're-imagined' existence is interesting and shouldbe fruitful in considering the depth and complexity – as well as focus – produced from the female students as opposed to their male peers.
Reading through Badminton I stumbled on his treatment of the novel Easy Travel to Other Planets, by Ted Mooney which involves emigrants from Earth experience "a new  emotion,  one  that no  one  had  ever  felt before… like  being  in  a big  crowd  of  people  without  the  people."  (1992, 186).  This idea of the 'we' at present accords with the debates about digital identities…but it also alludes to the Russian novel We (Zamyatin), which was inspirational in the writing of Orwell's 1984, and this was developed as a dystopian reading of collectivism and rationalisation of labour on a grand scale, with particular focus on military and space-related technology production.  This is interesting (and perhaps demands another need) but the memes and motifs from the previous weeks' readings continually introduce terms such as 'capitalist' and 'industrial', whereas Zamyatin produced this under Soviet Communism.
References
Badmington, N. (2003). Theorizing Posthumanism. Cultural Critique, 53.
Gies, L. (2008). How material are cyberbodies? Broadband Internet and embodied subjectivity. Crime Media Culture 4/3.
Muri, A. (2003). Of Shit and the Soul: Tropes of Cybernetic Disembodiment in Contemporary Culture. Body & Society, 9/3.
Mooney, Ted. Easy  Travel  to Other  Planets.  New York:  Vintage, 1992.
Nov
18
I am developing a new course of study for the academic year 2011/2012 which brings together a number of Secondary School disciplines: English, I.T. and History.
With the increasing developments in narrative texturing in today's modern PC and console games, I have decided – although uLearning still intrigues me, as does augmented reality as a Secondary School English Teacher interested in pushing the boundaries of narrative form – to look at something I am currently tasked with at my school…
Pupils will be expected to produce a small audio-visual narrative that is built using excerpts from the game Silent Hunter III game missions adapted from key historical engagements, and overlay these with imagined personal accounts based on their simultaneous studies of the Second World War in History and English lessons; game collaboration activities involving groups not exceeding 4 will be assessed on their discussion and interoperability.
These digital natives are drawing together a number of legacy skills:
reading and understanding the key elements of WWII history;
reading and understanding the technical innovations of the 20thcentury and their application in a theatre of war;
reading and engaging with personal accounts from servicemen not allied to the pupil's own country of birth;
During this time they will be working in collaboration with one or more of their peer group in an immersive environment that sees them adopt the role of a key Kriegsmarine officer.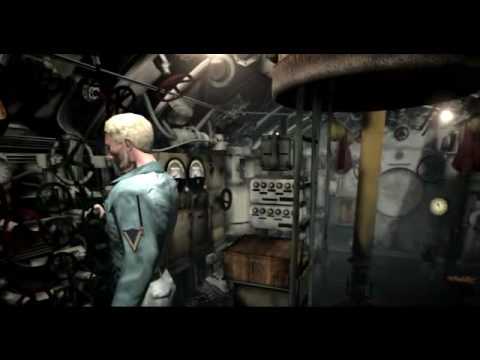 They will then synthesise legacy and digital capabilities and produce a YouTube montage of a first-person account of life – physical and emotional – at sea as a German submarine officer during WWII, and his or her immediate family.
I would draw on particular facets that have been given focus at key points in during previous activities – the online communities supporting video montages contextualized by modern warfare; the historical archivewww.uboat.net will also be used as a resource for information on personnel, submarine fleets, engagements, etc.
Nov
13
Weatherproof Cyborg?
The other morning – it was Friday, as Thursday's torrential rain and hefty gusts continued to push toward the weekend – I boarded a Western Ferry (the 'Calmac 'was running but we didn't want to take any chances) and, along with my colleagues set about producing our technological gizmos: one colleague and I shared a table, his laptop opposite me on the left-hand side of said formica.  I unfolded my netbook, checked that my Google Nexus One was operating in GPRS mode, and secured my earphones.
As Wire drilled their short and edgy guitar rifts into my bewildered head, I struck out a text message to my wife who would receive the message en route to Glasgow via train, and during this time I received a message from my colleague, who like myself, wanted a 'second opinion' from Android apps such as Caledonian MacBrayne: he sent me a URL via text, which I duly opened in my phone's browser.  Wire are still charging through their 'not so difficult second album', the netbook has since loaded an old light version of XP and I am plugging (rather disappointing) National Assessment results from the previous' evening marathon of marking into an Excel spreadsheet.  The Nexus One, armed with a 1Ghz processor displays near-real time AIS ship movement data for the River Clyde  http://www.shipais.com/currentmap.php?map=RiverClyde
Simultaneously, I am teacher, navigator, father, husband, colleague, audience, passenger…
Nov
13
This Cyborgian – adjective? – behaviour reveals many different online and connected identities – some of which include "human and non-human actors" (Hayles, 2006, p. 162).  It is organic, in the same was as objects are developed with increased capability and – often – reduction in size and associated cost; and increased connecticity and 'connectedness' within a "co-evolutionary spiral" (Hayles, 2006, p. 164).
Posthuman can be resolved into greater focus through the term Cyborg, a heavily charged term, which conjures up science-fiction and man-machine entities which involves connectivity but a connectivity that distorts class, gender…this lead me to reflect on what little I had gleaned from Haraway and her reference to "women-headed households" a facet of contemporary societyoften cited as correlating with anti-social behaviour, family degeneration and crime.
This predominance of the feminine is exemplified in the early years of a child's pre-school and primary school experience; there's certainly examples of this continuing into the Secondary Sector.
I agree that there is significant fragmentation and disruption across the traditional boundaries, boundaries challenged and breached by modernism and post-modernism.
I drew on Hayles' dissemination of Haraway's text; I will return at some point to the text, but for now I wondered if her positive appraisal of Sputnik bore any relation to its feminized imagery – compared to the more phallic motifs of rockets and the Saturn V.
I agree with Hayles (2006) that our "distributed cognitive systems that include human and non-human actors; distributed cognition in turn is linked to a dispersed sense of self, with human awareness acting as the limited resource that artificial cognitive systems help to preserve and extend" (Hayles, 2006, p. 162).
As Hayles suggests (2006) there are "shifting configurations of value" placed on aggregate parts.  With regard to pedagogy learners may construct their own or partial configurations depending on their contexts – own frames of reference and educational aims.  Furthermore, such fragments – if, for example we consider the lifestream, -have overheads attached to them.  Such fragments – I am thinking net neutrality and divide, here – are more network bandwidth and rendering intensive than others: youtube audio-visual may deliver a wealth of information using two modes of communication; a piece of text on a web page carries (relatively speaking) no real overhead: "cognitive flows between human, animal and machine…not a split creature but a co-evolving densely interconnected complex system" (Hayles, 2006, p. 165).
Cyborgian may thus be further variegated, with the creation of realms of degrees of cybernia.  Some posthumans will vaccillate between cyborgian activities than others, depending on their connectedness, which is affected by human issues such as race, gender…
Does gender matter? This may be the case in the online and virtual world, but may be more restricted in RL.
In some respects, cyborgian identity can subvert the RL strictures of sex/gender; identity may oscillate and subvert in the wireless and wired connection.  However, Cyborgian existence is grounded in the Rl, facets of this flesh existence may inhabit societies and which limit the opportunities – suggested (Haraway, 1985) in the case of the "women-headed households" (p. 47) of patriarchal society.
References
Haraway, D. (2000). A Cyborg Manifesto: Science, Technology, and Socialist-Feminism in the Late 20th Century. in D Bell and A Kennedy, The Cybercultures Reader. Routledge.
Hayles, N.K. (1999). Toward embodied virtuality, chapter 1 of How we became posthuman: virtual bodies in cybernetics, literature and informatics.Chicago, University of Chicago Press. pp1-25
Hayles, N.K. (2006). Unfinished Work: From Cyborg to Cognisphere. Theory Culture Society, 23/7-8.
Shields, R. (2006). Flânerie for Cyborgs. Theory Culture Society, 23/7-8.
Nov
4
This past fortnight revolved around refining data sources for my ethnographic study of a virtual community, which can be found here.
Not being a gamer nor owning a console I did feel slightly overwhelmed by these 'other worlds', and a number of technological difficulties presented themselves to me which, uniquely, reminded me of the nebulosity of the network of hardware and software links that we have come to rely on and inherently trust…
Call of Duty: Modern Warfare 2
Initially, my focus was Call of Duty: Modern Warfare 2 but I realized that the Medal of Honour game offered rich pickings with the recent controversy surrounding the decision by the game's designers to allow players to choose to play as a Taliban fighter – the nomenclature modified to 'Opposing Force'. From Wikipedia.org:
Call of Duty is a first-person and third-personshooter video game series franchise, created by Ben Chichoski. The series began on the PC, and later expanded to consoles and handhelds, and severalspin-off games have also been released alongside the main series. The majority of the games in the series have been set primarily in World War II, with the exception of Call of Duty 4: Modern Warfare, Call of Duty: Modern Warfare 2 and Call of Duty: Black Ops which are set in modern times/Cold war Era.
I embarked on investigating four sources of information:
YouTube
Twitter
Call of Duty Forums
Xbox Live
The short time-scale and level to which I was expected to study (as well as the technological difficulties) meant that I was in the allotted time able to frequent the first two.
YouTube
I was advised by some of my school pupils of the types of clips that predominated the web – particularly YouTube – and decided to subscribe to and e-mail a number of contributors (Mr360Games, GruesomeFish and Hoopzz221). I noted that the 20 year-old DyabLoPaCheCo had postings which had gained 1 million plus views.
Players provide uploads of video clips (or montages) featuring high-score missions. Often the diegetic sounds are included – sometimes featuring in-game audio commentary from one or more players – but often a heavy rock or techno track is provided as the sole sound.
Some of the videos include short trailers, professionally narrated and replete with jingoistic nomenclature – "what happens over there has an effect over there" – and rippling American and United Kingdom flags.
My enlightenment had begun, and I saw that even these types of games carry a number of sub-genred communities within. There is very little in the way of verbosity in the comments made in response to the YouTube postings (by its very nature, this medium serves the audio-visual) and any are simple and either supportive or derogatory; most posters dispense with the rigors of grammar checking or attending to punctuation.
Some threads concerned whether or not 'sniping' was acceptable behaviour; other postings contained dialogic exchanges relating to the Iraqi and Afghanistan conflicts. Comments often equated to nothing more than unpunctuated one-liners that invariably include "suck", "dude" or "owned".
Some of these notable comments are featured as Wordle tag clouds and Powerpoint stills which are interleaved and contribute towards the main narrative of the videocast artifact overview of my ethnographic pursuits.
Twitter – 'Your Country Needs You'
Surprisingly, Youtube comment reviews revealed a number or 'recruitment' tweets from teams – or 'clans' – within the online gaming experience, looking for new members to play as opponents or allies. It did occur to me one logical extrapolation whereby with the added option to refine search results within a geographical context, using 'location-based' services teams might be amassed in not just ideological but also the geographical analogies of current conflicts.
Interestingly, the majority of twitter account avatar images were of pouting, glamour 'babes', JuiceyRosa (Rosa Henderson) @Team3K for example.
Summary
Overall. I was made slightly uncomfortable at some of the narratives used in the prologues to these games: re-enactments of the kidnapping of an official by Iraqi militia men in balaclavas and Western training shoes, whereupon the hostage is taken to a secret location and executed. Thus the premise of – and stripped of any diplomatic complexity – forthcoming 'missions'.
Furthermore, military voice-overs carried the gravitas and rhetoric not uncommon in TV documentaries or campaign videos; flags slowly fluttering and the use of "there" and "here" delivering simple dichotomies to validate the use of reciprocal force.
All circumlocutory rhetoric without the actual mention of the term "9/11".
Oct
31
I plan to integrate these into a videocast…