I always wanted to be a bishop.
My Week 12 for #ededc was one huge workaround, but rather than bemoan the darkness I will celebrate the light of mobile workarounds for Wifi limitations. I was in Doha, Qatar all week for the #WISE2010 Conference on educational innovation. I will post to my own blog about some of the things I learned there, but for the most part the conference itself did not really address matters relevant to digital cultures. Hence, I thought I would focus my comments here on the uncanny and the interaction made possible through a mediated blend of reality, perception, and technology.
Mobile is a lifeline- without my Blackberry, I would have had zero interaction with #ededc. I attempted to appropriate some of the computer stations they had scattered throughout the conference, but that didn't feel entirely conducive to a reflective blog post, especially with a queue behind me waiting to use it as well. With my Blackberry, I was able to interact with my wife (Gmail chat) in realtime, interact with #ededc through Twitter and Tumblr (but the Wordpress app I tried to use to post was proving entirely unstable-lost 3 posts that way). I was able to take pictures, send those to Tumblr and Twitter, and even take shots of the plane before takeoff to assuage the concerns of my wife. Without my mobile device, I would have been eerily alone. With it, I traveled with my network and felt calmer for the experience.
Hotel Wifi is an illusion-despite repeated claims that the hotel did indeed have it, I was unable to access the hotel wifi until the last day when I discovered it was indeed enabled for a 2 ft. square section of the room right next to the door. And only when standing up. So, I called my wife on Skype until my legs grew tired. Productivity declined as a result as eventually my thumbs grew tired on the Blackberry. However, this gave me a good opportunity to watch Syrian, Lebanese, Saudi Arabian, and Qatari television, which proved just as good as it sounds. I love foreign television dramas, if only for the giggles. I did this in Korea consistently, as well as in my travels in Africa, and it is wonderfully revealing of the country's values as well as how universal all of it is. We all dramatize the same themes. Either way, Syrian music television in particular is a delight.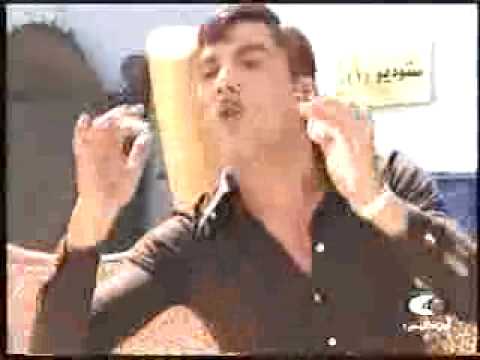 vs.
Both feel like television we know, but are entirely foreign. Uncanny.
Life is uncanny- speaking of the uncanny of the virtual, I am delighted by the uncanny of mobile. Not only was I able to interact with wife, work, #ededc, I was also able to participate in a workshop that I was supposed to be administering and attending in India on digital futures for higher education that my organization had organized. So from Doha, I twittered my findings relevant to India to the #digitalindia hashtag, which then immediately became part of the discussion there. It was uncanny in that my view of myself was akin to that of a router, sending packets of information in at least 4 different directions. Yet I was entirely situated in Doha. Also, the simplest of things like the Google homepage becomes like the image below. Familiar, yet different.
Tumblr is adept at allowing for mobility- Tumblr is especially good at capturing the mobile experience, allowing for images, videos, quotes, even audio posts, all possible through the rudimentary Blackberry device. It perfectly captured my impressions on the road. Without it, my interaction with #ededc would have been limited to Twitter and its 140 characters.